13 Years'
Experience

10,000 Motorcycles
Transported

2,000 Satisfied
Customers

Delivered On
Time Guarantee
Specialists in Motorcycle Transport
Moving your motorcycle from one Australian city to another no longer needs to be an ordeal. It is simple, painless, and affordable to arrange for Motomovers to transport your bike for you.
This method of moving motorcycles spares you from hassle and also saves you money and time. Whether you've ridden from Sydney to Melbourne for the Moto GP and you don't have time to ride it back or you've bought a bike on eBay and you're not able to pick it up in person, we can help. If you need motorbike movers with the minimum of fuss and delivered to you on time and in one piece, we can do it for you.
We Can Pick up And Deliver Your Motorcycle Door
to Door In The Following Areas Of
Victoria, ACT And NSW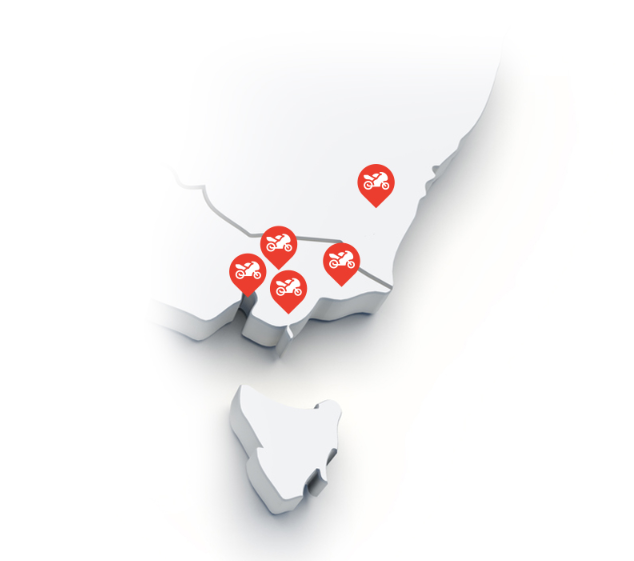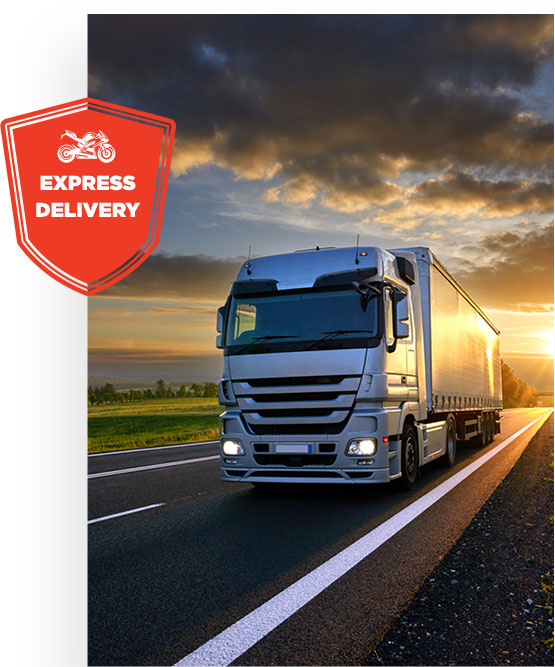 The Practical Aspect of Moving a Motorcycle by Transport Interstate
There are many reasons why it is more sensible and practical to use interstate motorcycle transport in Australia instead of riding or transporting it yourself. For those who don't know the fundamental economics behind this kind of journey, it could seem that it would be cheaper just to ride, but in fact, the reality is quite different.
The factors to be considered are:
Your time is valuable. The time you would spend making that ride could probably be used more productively in ways that are more beneficial to you.
Riding that far puts a lot of stress on man and machine. You may be able to ride comfortably for an hour or two, but once you tick over into that third hour, you're really going to start feeling it. Meanwhile, your bike is experiencing wear and tear, too.
Safety is a big consideration on these journeys. You may become fatigued, and you'll be sharing the road with other fatigued motorists.
When you're riding, you can't take much with you. Anything you do take is vulnerable to theft and may create a safety risk (e.g. due to unbalancing).
You'll have to spend money for all those fuel stops, food stops, and rest stops.
Those are just some of the many reasons you aren't better off with the DIY solution to moving interstate.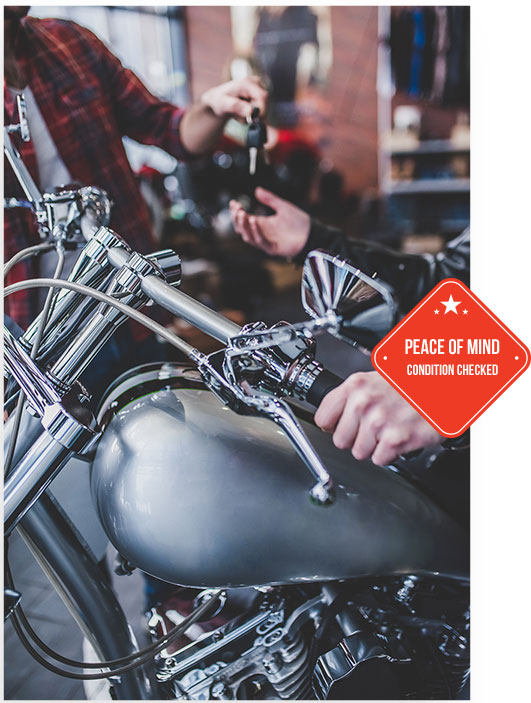 Let Motomovers Take the Strain
Of course, rather than ride you could choose to transport your bike yourself, either in a ute, van or on the back of a trailer. But do you know how to do this safely? So many things can go wrong if you don't have experience of loading a bike and making sure that it's securely tied down. If you don't believe us, just take a look at this. You may think that you know what you're doing but sometimes it isn't as easy as it looks. Don't risk damaging your precious bike, let the professionals take the strain.
When you choose Motomovers to handle your interstate motorcycle transport, you don't have to worry about any of those problems.
We freight your motorbike in modern, clean, well maintained trucks. We make sure it's loaded carefully and locked down securely. We use covered trucks, so the bike is not exposed to the weather. We take security seriously, and take active measures to prevent vandalism, theft, and damage of the personal property entrusted to our care.
How Does Our Interstate Motorcycle Transport Service Stack Up Against DIY?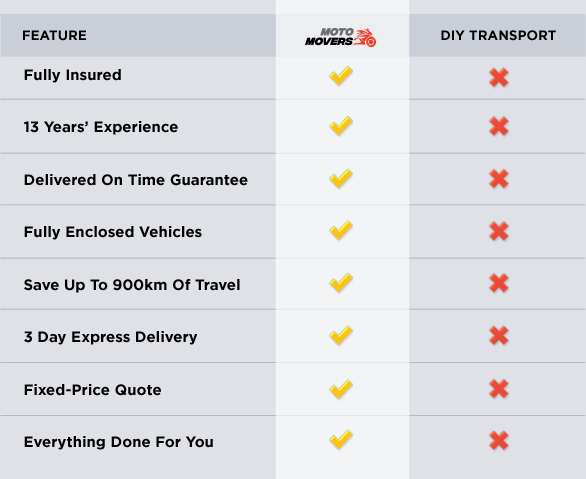 The Top Reason to Choose Motomovers for Motorbike Transport Interstate
We offer scheduled weekly interstate runs between Melbourne, Sydney and Canberra together with local runs in the Melbourne and Sydney metro areas (within 150 km) at fixed prices.
No surprises or shocks in the bill, you'll know exactly what it's going to cost right from the start when you request for a motorcycle transport quote. Our service is guaranteed to get your bike safely to the destination on time, so when you need your bike moved, call Motomovers to move it.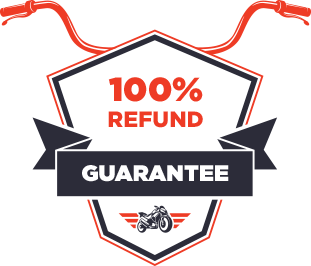 On-Time Every Time 100%
Refund Guarantee*
We commit to delivering your motorcycle on-time, every time. If your motorcycle arrives any later than the agreed upon day of delivery, we will personally waive the cost of the entire transportation – no questions asked.
* T&Cs apply
FAQs About Interstate Mobile Transport
Yes, all bikes are transported in enclosed vehicles Unless the motorcycle in question cannot roll or is damaged and requires an all up lift.
Yes, we have coverage for motorcycles in transit up to $150,000 in any one conveyance, this covers Fire, theft, rollover, loading and unloading, and accidental damage.
Yes. All Motorcycles are inspected and an Inspection report is given to both the Sender and the Receiver. Our Bill of Sales service goes one step further, we will check and verify all the numbers and condition and organize payment on pick up of the bike for the peace of mind of both the buyer and the seller.
Yes, there are times a bike could weigh in excess of 300kg and a little extra help by way of running engine to assist with loading does help, but in some circumstances no the key is not required.
Get A Free, 1 Hour Rapid-Response
Fixed-Price Quote For Your Motorcycle
Transportation In April
And Get A FREE $100 Voucher To
Be Used For Our Services!
Get in touch today for a free, quick fixed price quote, and for April only, you will also receive a FREE $100 voucher to be used on your next transportation service with us!
*Terms & Conditions Apply