13 Years'
Experience

10,000 Motorcycles
Transported

2,000 Satisfied
Customers

Delivered On
Time Guarantee
Motorcycle Transport from Melbourne to Sydney
When you need to get your bike to Sydney, riding there isn't usually an option and it's certainly not the best way in any case. This journey of over 700 km can be a punishing ordeal for man and machine, but fortunately it doesn't have to be. Motomovers can get your bike to Sydney quickly and safely by truck. We offer regular scheduled trips between Melbourne and Sydney with your choice of pick up and drop off times. Need your bike in a hurry? Speak to us about our 3-day Express Delivery Service. At Motomovers, we have one aim – and that's to get your bike to where it needs to be – on time and in one piece.
We Can Pick up And Deliver Your Motorcycle Door
to Door In The Following Areas Of
Victoria, ACT And NSW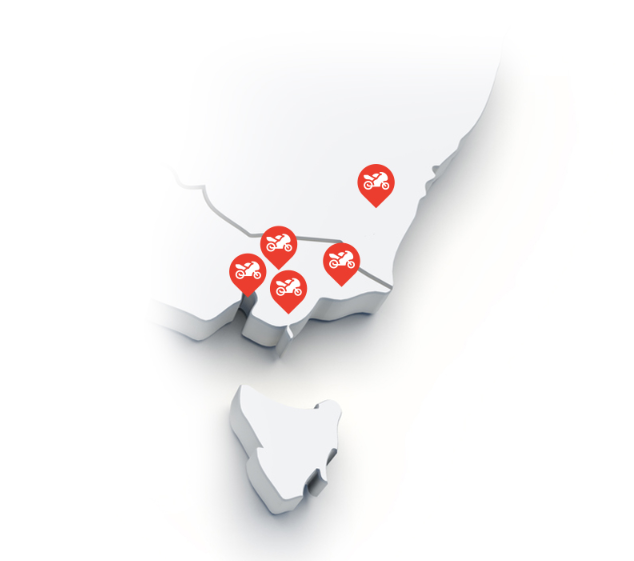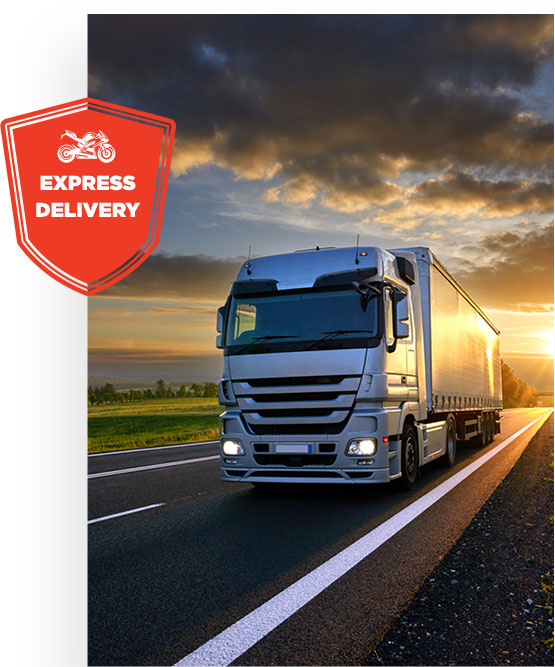 The Transport Solution You Can trust
Having made the decision to transport your bike to Sydney, it's important to be aware that this is not a job you can trust just any moving company to handle for you. Motomovers is a specialist in motorcycle transport because it's the only kind of freight we handle.
Our team members have expert knowledge and plenty of experience in the safe and proper handling of motorcycles. This means you can expect nothing but the utmost in safety and security for your bike. Somebody with less knowledge and experience is more likely to make a mistake that could result in damage.
Affordable Motorbike Transport from Melbourne to Sydney
Because we're a specialist interstate motorcycle transporter, we're able to offer you a much better deal than you could get from a more generalist moving company. This is possible because our trucks are custom built for the task, and we don't face the same logistical challenges ordinary movers have to deal with.
With regular scheduled bike transportation between Sydney to Melbourne & vice versa, we're able to offer fixed price transport, so you always know exactly what the cost will be. We also transport motorcycles to Canberra specifically too. Every shipment is fully insured, and our drivers are serious about security. To put it simply, moving your bike with Motomovers is a worry-free experience.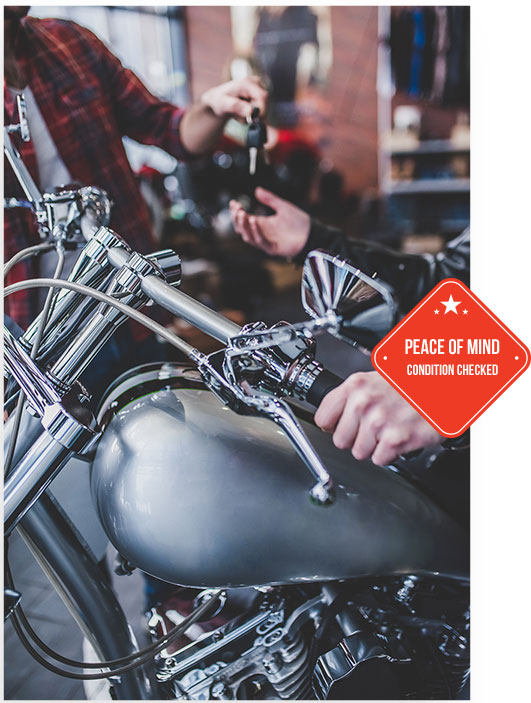 The Many Benefits of Motomovers
There can be no doubt Motomovers is the best choice for safety, reliability, and price. We even have a guarantee that we'll arrive on time, every time. Here are a few more things customers love about Motomovers:
Fully enclosed trucks, providing the best protection for motorcycles.
Scheduled departures, so you can choose the time that suits you best (subject to availability – it's advisable to book well in advance of your intended travel date).
Modern, clean, and well maintained trucks, specially adapted for motorcycle transport.
We're never late. Motomovers does just one thing and we do it very, very well. That thing is moving motorcycles quickly and safely from place to place.
Full insurance, including third party liability. From the moment we pick up your bike until the moment you collect it, your bike is totally covered by the highest level of insurance against anything that could happen.
Expert handling. We've already moved over 10,000 motorcycles since we started in business over thirteen years ago. You can trust us with absolute certainty to get the job done right.
Save time, save money, and save hassle by choosing Motomovers for your Melbourne to Sydney motorbike transport. Call us on 1800 211 110.
What is included in our motorcycle transport service?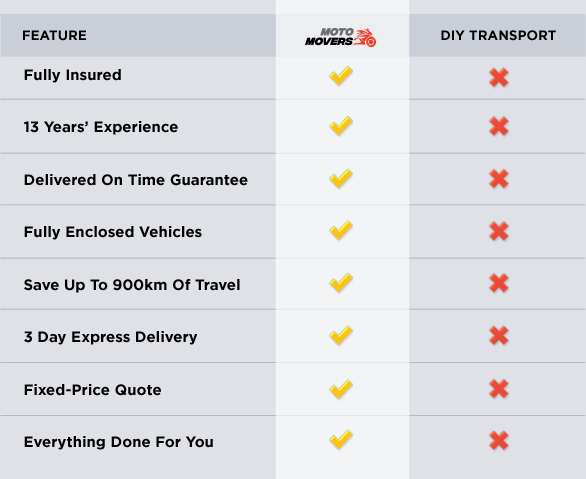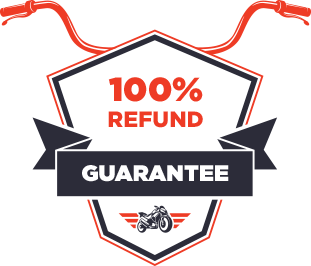 On-Time Every Time 100%
Refund Guarantee*
We commit to delivering your motorcycle on-time, every time. If your motorcycle arrives any later than the agreed upon day of delivery, we will personally waive the cost of the entire transportation – no questions asked.
* T&Cs apply
FAQs About Our Melbourne To Sydney Service
Yes, all bikes are transported in enclosed vehicles Unless the motorcycle in question cannot roll or is damaged and requires an all up lift.
Yes, we have coverage for motorcycles in transit up to $150,000 in any one conveyance, this covers Fire, theft, rollover, loading and unloading, and accidental damage.
Yes. All Motorcycles are inspected and an Inspection report is given to both the Sender and the Receiver. Our Bill of Sales service goes one step further, we will check and verify all the numbers and condition and organize payment on pick up of the bike for the peace of mind of both the buyer and the seller.
Yes, there are times a bike could weigh in excess of 300kg and a little extra help by way of running engine to assist with loading does help, but in some circumstances no the key is not required.
Get A Free, 1 Hour Rapid-Response
Fixed-Price Quote For Your Motorcycle
Transportation In April
And Get A FREE $100 Voucher To
Be Used For Our Services!
Get in touch today for a free, quick fixed price quote, and for April only, you will also receive a FREE $100 voucher to be used on your next transportation service with us!
*Terms & Conditions Apply